Visualization¶
Integrated 3d view¶
The 3d view is opened by the "3D" button in the controller, or by calling woo.qt.View(). It is based on OpenGL and rather flexible.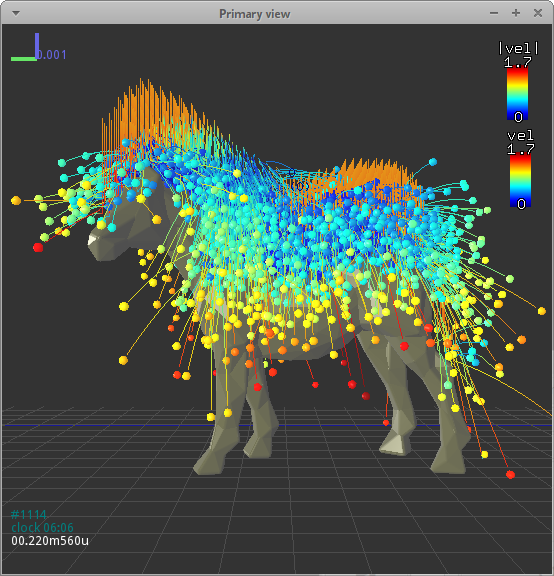 Mouse can be used to manipulate the camera:
left drag rotates
middle drag (wheel) moves
right drag (wheel) zooms
double left-click sets view angle to the closes multiple of 45°
Alt + left-click selects object (and shows distance to the previous selection)
Many keyboard shortcuts are defined of which the most important ones are:
h shows help;
t toggles perspective/orthographic camera type;
c centers the view around whole scene; Alt-c centers the view intelligently around that part of the scene where most particles are;
q (as quality) cycles the FPS (frames per second value): 2, 5, 10, 15. Shift-Q toggles fast display (useful with many particles)
a toggles display of axes;
g displays axes grids (cycles between all possible combinations; Shift-G toggles all on/off)
x, X, y, Y, z, Z: make selected axes point upwars and align the other two, i.e. show respectively the zx, yx, xy, zy, yz, xz plane;
s toggles displacement/rotations scaling (see woo.gl.Renderer.scaleOn); Shift-S sets reference positions to current ones;
d selects which time information is displayed (cycles through all combinations);
Ctrl-c copies the view to clipboard, as raster image (can be pasted to documents/graphics editors).
Colorscales can be manipulated using mouse:
wheel changes size
right-draw moves, and toggles portrait/landscape when touching the edge
left-click resets the range an sets to auto-adjust
A movie from the 3d view can be made by checking the
first, and, when sufficient number of snapshots will have been save, clicking .
Display control¶
The Display tab of the controller configures the 3D display. Woo dispatches OpenGL display of all objects to objects (always called Gl1_*) responsible for actual drawing, which is also how this dialogue is organized.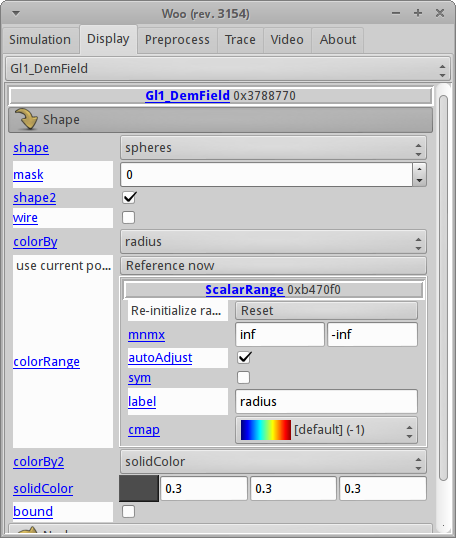 Renderer configures global view properties – initial orientation, displacement scaling, lighting, clipping, and which general items are displayed. Useful options are woo.gl.Renderer.engines> for showing/hiding engines which render something (typically inlets/outlets) and woo.gl.Renderer.ghosts for repeating particles in periodic boundary conditions.
Gl1_DemField (shown on the image) is reponsible for displaying contents of DEM simulations (woo.dem.DemField) – particles, contacts between particles and so on.
Paraview¶
Paraview is multi-platform data analysis and scientific visualization application. Woo can export two types of data:
snapshots of particles and contacts for visualization or evolution analysis using VtkExport;
time-averaged and space-averaged data for flow and segregation analysis using FlowAnalysis;
particle traces, as collected by Tracer.
The first two are shown in this movie, created in Paraview from the woo.pre.horse.FallingHorse simulation:
Pov-RAY¶
Pov-RAY is open-source raytracing code. Woo supports output to POV-Ray via woo.dem.POVRayExport. Particles are assigned textures based on their masks (in the future, texturing by woo.dem.Material instances is envisaged); camera parameters, texture definitions and others can be independently hand-tuned. Texturing procedures are informed about particle diameter, which is useful for scaling according to particle size.
Refer to examples/povray-export.py for a simple example.
In the following movie, focal blur, procedural textures and bump-mapping (particles are ideally spherical in the simulation) are used for semi-realistic view of the scene. Rendering >700 frames in the 2000x1500 resolution took many hours. View this movie at youtube for better resolution.
Tip
Ask questions or report issues at github.